Skip to Content
How BioTE Can Change Your Life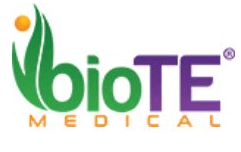 Are you struggling to lose weight? Dealing with reduced mental focus and memory? Or having trouble sleeping at night? If you answered yes to any of these questions, it's possible that you could be a candidate for BioTE bioidentical hormone replacement therapy.
As we age, it's important to keep our hormones balanced to stay in good health and prevent diseases. But menopause and other aspects of aging can interfere with our hormone balance, leading to issues like fatigue, decreased muscle strength and weight gain.
With BioTE bioidentical hormone replacement therapy, you can get your hormones back in balance and restore your energy and overall wellbeing.
How BioTE Works
BioTE uses hormone pellet therapy to replicate your body's normal hormonal levels and improve your overall health. With hormone pellets, bioidentical estrogen and testosterone are released into the bloodstream and absorbed as needed. And unlike conventional hormones, bioidentical hormones are chemically identical to those produced by your body.
The hormone pellet dosing is customized to your body's needs so that you get the treatment that's right for you. Proper hormone levels are determined individually for each patient using the comprehensive BioTE blood work analysis. The pellet implants are placed under the skin and consistently release small doses of bioidentical hormones directly into the bloodstream, 24 hours a day, 7 days a week, for up to 5 months.
Primary Benefits of BioTE
While hormone replacement therapy is a common treatment for reducing the symptoms of menopause, it can also be used more broadly for treatment in men and women. Studies have shown that optimized hormones can significantly reduce the risk of serious health problems, such as osteoporosis, heart disease, and diabetes. Those who have used the therapy have reported increases in energy, a reduction in hot flashes, a revived sex drive and improved mental focus.
Some of the main benefits of BioTE include:
Regained energy and decreased fatigue
Improved muscle strength
A greater ability to lose weight
Increased mental clarity
Reduced hot flashes
Improved sex drive and sexual stamina
The improved overall quality of life
Prevention of age-related illnesses
Increased bone mass from testosterone pellets
Greater ease sleeping at night
Reduced muscle and joint pain
Improved mood and overall wellbeing
For women, balancing estrogen levels can help prevent symptoms such as loss of skin elasticity, bone shrinkage, moodiness, and cognitive decline, in addition to treating symptoms of menopause. Testosterone therapy can meanwhile provide women with increased libido, improved mental clarity and enhanced muscle tone and mass.
Men, meanwhile, typically begin losing testosterone at a rate of 3 percent to 10 percent per year after age 30, which can eventually lead to fatigue, loss of libido, difficulty maintaining an erection and decreased mental clarity. Testosterone therapy can help combat these symptoms, helping increase sex drive, improve mental clarity and enhance your overall wellbeing.
If you think you might be a candidate for BioTE bioidentical hormone replacement therapy or simply want to learn more about the therapy, talk to a BioTE provider today.